Innovation is the eternal theme of every era.
From " without " to " with " is an innovation. Breaking through conventions and creating new things in the exploration of the unknown world.
From " with " to " " is an innovation. Starting with 1 and progressing to 1.1 improvement and optimization, new progress has been formed.
From " excellent " to " used " is an innovation. Stones from other mountains can be used to tap jade, and the results of technological application have given new value to innovation.
As a developer born with innovative genes and blood,
Do you have ideas that are different from the conventional ones and suffer from no platform for expression and display?
Do you have an idea that suddenly bursts out, but there is no supporting environment to support verification and landing?
Do you already have a good product, but have been unable to reach the target customers to realize the application value?
with lofty ideals, now the stage is here! [Innovation 2021] The NetEase Application Innovation Developer Contest has officially started!
As a leader in converged communications cloud, NetEase Yunxin will tap a team of highly innovative developers around the world, relying on Netease Yunxin's technical capabilities such as IM, audio and video calls, and live broadcasts to complete the design and development of innovative applications.
Join us and embark on this wonderful journey Developer Contest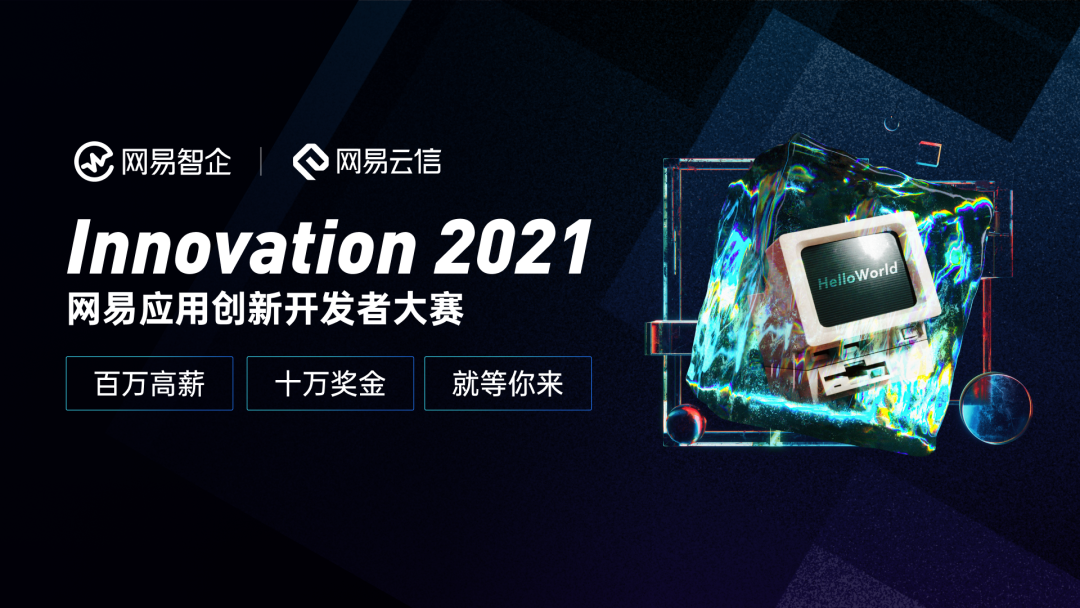 1. Competition schedule
•Online registration opens: August 25
• Deadline for submission of works: October 25
• Announcement of the final list: November 5
•Finals and Awards Ceremony: November 27
2. Contest rewards
Reward 1: a generous bonus
First prize (1 winner) 50,000 yuan
Second prize (1 winner) 30,000 yuan
Third Prize (1 winner) 15,000 RMB
Excellence Award (7 winners) 5,000 RMB
Reward 2: CTO final round interview through train
Winning team members can obtain the qualification of "Netease Yunxin Recruitment Green Channel", and they can directly enter the final round of CTO interview when participating in the recruitment, and they have the opportunity to get priority job opportunities and internship offers!
3. Requirements for entries
Based on the IM instant messaging, audio and video calls, live broadcast and other technical products provided by NetEase Yunxin, the application design and development (IM and audio and video call products need to choose at least one) to create innovative and practical Internet products.
Materials to be submitted:
Project name: Application name
Team Introduction: Information about participating individuals/teams
Project Introduction:
(1) Introduction to the work: Describes the design structure, achievable functions, and usage scenarios of the work.
(2) Advantages of the work: Introduce the innovation of the work and solve the pain points from a technical point of view.
(3) Work prospects: planning the application prospects, business models and target users of the product.
Note: The project introduction includes but is not limited to the aspects mentioned above.
Project demo, description document (App must submit the installation package, web must submit the link, and the applet must be the official test account when the official contact is made)
Project demonstration video (optional)
Submission method:
1.Fork official warehouse to GitHub/Gitee warehouse of participating individuals/team representatives
2. Clone the participating individual/team representative warehouse to the local
3. Create an individual/team representative project folder under the local folder (you must use the English named folder of the project name), and put the entries in this folder
4. Pull Request Submit entries to the official warehouse
Four, registration rules
Registration object : Developers, entrepreneurs, students, enthusiasts, etc.
Registration requirements :
1. Participants can register individually or as a team (no more than 5 people). If you register as a team, you must fill in the registration information of each member of the team in the registration form, and each person can only participate in a maximum of 1 participating team.
2. After registration, you need to add NetEase Yunxin Developer Contest Assistant WeChat (WeChat ID: yunxin2108, remark "NetEase Yunxin + name") to facilitate subsequent synchronization of various information and answer questions.
For more competition details and information, please see contest official page
---