In recent years, relying on the rapid development of cloud computing, Tencent Cloud Cloud products have been updated rapidly, and the construction of cloud-native ecosystems has begun to take shape. More and more companies have begun to seek and deepen the road of digital transformation. However, in exploration and practice, companies often enter the misunderstanding of "pseudo-uploading to the cloud". In addition to the pure server cloud, enterprises need to make more profound changes in organizational methods and technical architecture to fully enjoy the convenience brought by cloud native.
The Tencent Cloud CIF Engineering Efficiency Summit is hosted by Tencent Cloud CODING, with the theme of " cloud, turning the complex into simple ", focusing on the upgrade of R&D efficiency under the blessing of cloud native and the practice of enterprise transformation under the trend of digitalization. Xiao Heng, vice president of Tencent Cloud, Li Wei, deputy director of the China Institute of Information and Communications Technology, Yin Haibo, technical leader of the PCG performance platform department of Tencent, Zhang Hailong, founder and CEO of CODING, and Ru Bingsheng, a T4 expert of Tencent, and other industry leaders People, will join hands with the author of "Deployment and Operations for Software Engineers (Cloud Native DevOps Guide)" Len Bass , more than 30 industry leaders, talk about 6 major topics , convey industry experts, technical managers, first-line developers Voice, bring you the cloud native, DevOps, open source ecology, enterprise R&D management , and in-depth discussion of industry changes and technological innovations in the field of software R&D engineering.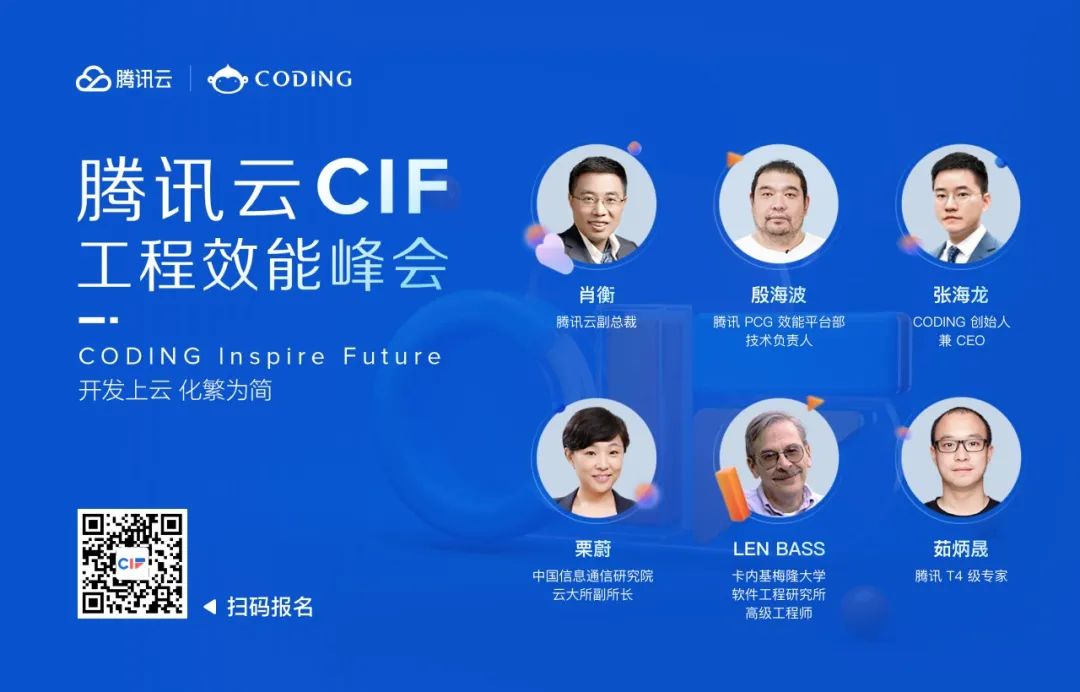 This summit will be held at 2021, , in online conference , breaking the geographical and spatial constraints, allowing more senior technical managers, first-line developers and technical researchers to be able to Participate in the summit.
Through this technology event, we hope to deepen industry awareness and build industry consensus in the exchanges and collisions of technologies; to help companies review the team's R&D process more systematically, and to find building and strengthening cloud native capabilities more quickly and at a low cost The path to realize the real cloud, at the same time, work together to build a cloud ecosystem of common development, cooperation and win-win!
summit is now officially open
Scan the poster QR code , to make an appointment for the CIF summit
Learn more about the summit
1614c17f22eab8 October
Tencent Cloud CIF Engineering Efficiency Summit promises you!

---