40s News Express
The Municipal Supervision Administration fined 3.442 billion yuan for the administrative penalties of Meituan's "two-choice-one" monopoly behavior
Apple's NFC chip faces EU antitrust investigation, or opens to rivals
Telegram adds 70 million users on the day of Facebook downtime
Nvidia has made initial concessions to the EU to ensure that the $54 billion acquisition of Arm is approved
Apple's car plan "IronHeart": iPhone will control air conditioning, seats, radios, etc.
Data on the average age of employees of Chinese Internet companies: no more than 35 years old
Google data center attempts to shift to the mainline core
Over half of enterprise workstations cannot run Windows 11
Amazon Twitch was hacked, a large amount of source code and financial details were released
Bootstrap v5.1.2 officially released
Python 3.10.0 is officially released
Google officially released Android 12
Delphi 11 "Alexandria" released
Firefox 93 is released, officially supporting AVIF format
Industry Information
The Municipal Supervision Administration fined 3.442 billion yuan for the administrative penalty of Meituan's "two-choice-one" monopoly
According to the provisions of Article 47 and Article 49 of the Anti-Monopoly Law and considering the nature, extent and duration of Meituan's illegal activities, on October 8, 2021, the State Administration for Market Regulation made an administrative penalty decision in accordance with the law. , Ordered Meituan to stop illegal activities, fully refunded the exclusive cooperation deposit of 1.289 billion yuan, and imposed a fine of 3% of its domestic sales of 114.748 billion yuan in 2020, totaling 3.442 billion yuan. At the same time, the "Administrative Guidance" was issued to Meituan, requesting it to carry out comprehensive rectification around the improvement of the platform commission fee mechanism and algorithm rules, the maintenance of the legitimate interests of small and medium-sized catering businesses on the platform, and the strengthening of the protection of the legitimate rights and interests of takeaway riders. The State Administration of Supervision shall submit a self-inspection and compliance report to ensure that rectification and reform are in place to achieve healthy and sustainable development of standardized innovation.
Apple's NFC chip faces EU antitrust investigation, or opens to rivals
According to people familiar with the matter, Apple will be subject to an EU antitrust investigation for its NFC chip technology, which may expose it to huge fines and may force it to open up its mobile payment system to competitors. Since the launch of an investigation into the mobile payment service Apple Pay in June last year, Apple has always been the target of Margaret Vestag, the head of EU antitrust.
The EU's initial concerns were the quick payment supported by Apple's NFC chip, the terms and conditions of how Apple Pay should be used on merchant's apps and websites, and the company's refusal to allow competitors to enter the payment system.
According to people familiar with the matter, the European Commission will focus on the NFC chip, which can only be accessed by Apple Pay. The EU antitrust agency is preparing a prosecution document called "Statement of Objection," which may be sent to Apple next year. Such documents usually list practices that regulators consider anti-competitive.
Telegram adds 70 million users on the day of Facebook's downtime
According to news on October 6, Pavel Durov, the founder of the instant chat application Telegram, said on Tuesday that during the massive Facebook downtime on Monday, Telegram gained more than 70 million new users.
The outage caused the 3.5 billion Facebook users to lose access to WhatsApp, Instagram, and Messenger. Facebook claimed that the downtime was caused by a wrong configuration change.
Durov said in his Telegram channel: "Telegram's daily growth rate is an order of magnitude higher than normal. We welcome the more than 70 million'refugees' who fled Telegram from other platforms in one day."
Nvidia has made initial concessions to the European Union to ensure that the $54 billion acquisition of Arm is approved
According to foreign media reports, the European Commission published documents on Wednesday local time showing that NVIDIA has made preliminary concessions in order to ensure that the EU antitrust authorities approve its $54 billion acquisition of British chip design company Arm. However, the European Commission did not disclose what concessions Nvidia made.
In September 2020, SoftBank Group and Nvidia announced that they had reached a definitive agreement. According to the agreement, SoftBank will sell ARM to Nvidia. Since NVIDIA announced its acquisition of Arm, it has been caught in a vortex of opposition, censorship, and security concerns.
Previously, documents released by the European Commission showed that Nvidia applied to the EU antitrust agency for approval of its $54 billion acquisition of Arm on September 8 this year. At the time, reports stated that the European Union would make a decision on whether to approve the transaction on October 13.
Today, the European Commission has extended the deadline for making a decision to October 27. Foreign media reported that the EU is expected to seek more feedback from Nvidia's competitors and customers to decide whether to accept Nvidia's concessions or ask Nvidia to make more concessions.
According to reports, Amazon, Samsung, and Tesla Chief Executive Officer (CEO) Elon Musk (Elon Musk) all expressed concern about Nvidia's acquisition of ARM, and they opposed the acquisition.
At the same time, the transaction also received the support of three major chip manufacturers, the three major chip manufacturers are Broadcom, MediaTek and Marvell Technology Group Ltd. (Marvell Technology Group Ltd.).
Apple's car plan "IronHeart": iPhone will control air conditioning, seats, radios, etc.
Apple's CarPlay interface is used by millions of drivers to control music, find directions and make phone calls, and it is seeking to expand its coverage in cars.
According to people familiar with the matter, the company is studying technologies that can access functions such as climate control systems, speedometers, radios, and seats. The plan is called "IronHeart" internally and is still in its early stages and requires the cooperation of automakers.
This work underscores the idea that cars can be the main money-making tool for the tech giant—even if the cars themselves are not sold. Despite setbacks in Apple's plans, including the defections of key executives this year, the company continues to make progress on CarPlay. It allows customers to connect their iPhone to the vehicle to handle so-called infotainment functions. Seven years after CarPlay was launched, it is now offered by most major car manufacturers.
IronHeart will take CarPlay one step further. People familiar with the matter said that the iPhone-based system has access to a range of controls, sensors, and settings, because the project is secret, so it declined to be named.
Data on the average age of employees of Chinese Internet companies: no more than 35 years old
Recently, Maimai Data Research Institute released a survey to rank the average age of employees of large-scale Internet companies in China. The data shows that the average age of employees of large-scale Internet companies is not more than 35 years old.
Specifically, the new generation of Internet companies represented by Bytedance, Meituan, and Didi have almost half of the companies whose average age is under 30 (including 30 years old), and the average age of Bytedance and Pinduoduo employees is relatively the lowest. The average age is only 27 years old. The average age of Didi Chuxing employees is 33 years old.
Among the established BATs, the average age of Alibaba employees is 31 years old, that of Baidu employees is 30 years old, and Tencent is the youngest with an average of 29 years old. The average age of Xiaomi and NetEase employees is 29, Huawei is 31, and Sohu and Sina are only 30 and 31 years old.
Google data center attempts to shift to the mainline core
At present, Google has initiated a new kernel project, Project Icebreaker, which aims to solve two problems: keeping up with the mainline kernel, making it easier for Google to introduce new features for the product to the upstream mainline kernel; it can run in the kernel production environment. Google program to verify upstream changes before Prodkernel changes the kernel version. Currently Icebreaker is based on the 5.13 kernel, and the latest kernel version is 5.14, 5.15 is in the release candidate status.
Over half of enterprise workstations cannot run Windows 11
Microsoft has started to push Windows 11 on October 5th. Eligible Windows 10 PCs can be upgraded to Windows 11 for free. At the same time, brand-new PCs pre-installed with Windows 11 will also be listed one after another.
However, the latest research by IT asset management software company Lansweeper shows that since Microsoft announced Windows 11, IT teams of large enterprises have been under pressure to develop attack plans; in order to launch a new operating system, they need a fast and cost-effective Windows 11 readiness check to determine which machines are eligible and not eligible for the upgrade. The results showed that 55% of workstations were not able to upgrade.
Lansweeper said that although Microsoft allows anyone to manually install Windows 11, regardless of the CPU. But only when the three key components of the computer—CPU, RAM, and TPM—satisfy the requirements required to perform the upgrade can it be automatically upgraded. In addition, if you do not meet the system requirements, there is no guarantee that Windows 11 will be upgraded. Based on data from approximately 30 million Windows devices in 60,000 organizations, Lansweeper shows that, on average, only 44.4% of workstations are eligible for automatic upgrades, and the rest will not be eligible.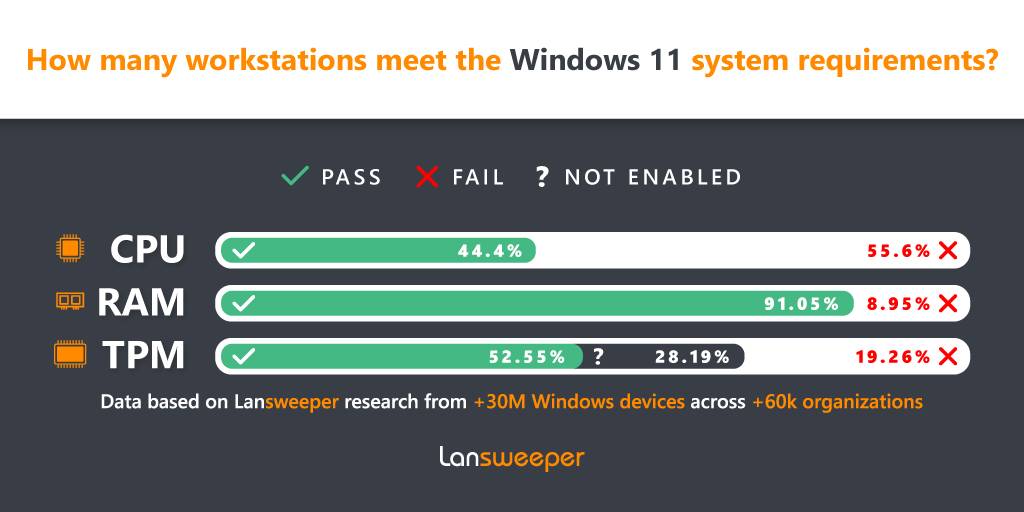 Specifically, only 44.4% of the CPUs of the tested workstations met the system requirements for upgrading to Windows 11, while 55.6% were not. Although most of them passed the RAM test (91%), only about half of the tested workstation TPMs met the requirements, more than 19% failed, and 28% were incompatible with TPM or were not enabled.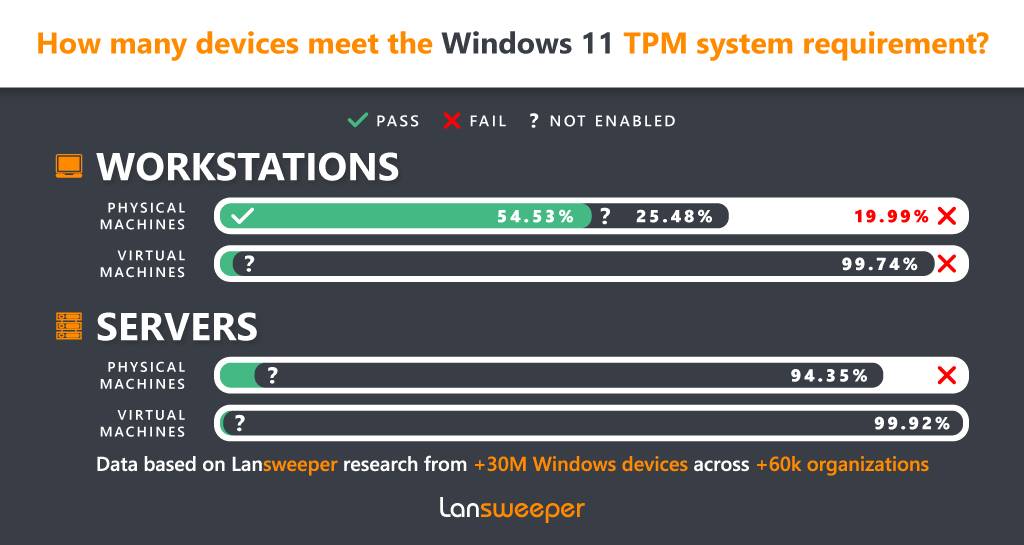 Roel Decneut, Lansweeper's chief marketing officer, said: "Microsoft has justified that these requirements are needed to alleviate security concerns, because many devices will not be able to be upgraded, even some new ones on the market. On the other hand, this may actually make a large number of devices Facing a greater risk of vulnerability. Those who cannot update to Windows 11-probably most businesses in the short term-will continue to use Windows 10. And Microsoft plans to end support for Windows 10 in 2025, which means It is impossible to provide more security patches for devices that cannot transition to its successor products."
Amazon Twitch was hacked, a large amount of source code and financial details were released
​It is reported that the entire Twitch source code, user comment history and detailed financial records have been posted online by an anonymous hacker. Twitch is a video and gaming service owned by Amazon. Now, the entire source code of its service, its mobile, desktop and client applications, and an unreleased Steam store competition project have all been leaked.
According to VGC reports, these files were leaked to 4chan by an anonymous hacker. This person said that the leak was to "promote more destruction and competition in the field of online video streaming, because the] community of Twitch is a sickening cesspool of poison." VGC has confirmed that the hacker's file is public on 4chan. An anonymous person inside Twitch further confirmed that these documents are genuine.
According to hackers and Twitter users who have already started checking files, the leaked data includes at least:
All Twitch source code
"Dating back to its early beginning" commentary history
Financial details, including compensation of creators since 2019
Source code of Twitch applications including Apple TV
An unreleased Steam competitor project
Internal security tools
Proprietary SDK, internal Amazon web service tools
Steam's competitor is called Vapor, which is produced by Amazon Game Studios. According to reports, there is also a related Vapeworld, which may be a chat service designed to integrate with Vapor.
Some users claim that the encrypted password is also included in the content published by the hackers. Assuming it is accurate, the leaked data reveals the amount of money that companies like CriticalRole earn from Twitch.
The original version of Twitch was launched in 2011 and was acquired by Amazon in 2014. Among its client applications, there is a long-running iOS application, a Mac client, and most recently Apple TV.
Amazon has not yet commented on the hacking incident, nor has it commented on the leaked data.
The latest technology trends
Bootstrap v5.1.2 officially released
Bootstrap v5.1.2 is officially released. Bootstrap is a set of open source front-end frameworks for website and web application development. The content of this update is as follows:
Added align-self: center to the button to improve rendering in the Flex container;
Fixed the crash problem, which hindered the switching between child nodes at the same level;
Updated JS Sanitizer to add sms in SAFE\_URL\_PATTERN;
Improve the related documentation of .img-fluid;
Added role="switch" to the form switches in our document;
Implemented the GitHub issue form to replace the previous issue template, etc.
Python 3.10.0 is officially released
Python 3.10.0 is officially released. Python 3.10.0 is the latest major version of the Python programming language. It contains many new features and optimizations. The highlights of the update are as follows:
Deprecated and prepare to delete wstr in PyUnicodeObject;
Allow the union type to be written as X | Y, parameter specification variables;
Add optional length check function in zip;
Context managers with parentheses are now officially allowed;
Deprecate the distutils module and explicit type aliases;
Requires OpenSSL 1.1.1 or higher;
And delete the API of Py_UNICODE encoder and add optional EncodingWarning
Google officially released Android 12
On October 5th, Google announced that it would officially push the source code to the Android Open Source Project (AOSP), and officially released the latest version of the Android 12 major version update. Android 12 will be launched from Google's Pixel series phones in the next few weeks, and it is expected that other brands of phones will be launched later this year, including Samsung Galaxy, OnePlus, OPPO, realme, Xiaomi and other devices.
In terms of UI interface, Android 12 introduces a new design language called Material You, which can help developers build more personalized and beautiful applications. In addition, the new version also provides redesigned widgets, updated notification design, added a new "stretch" over-scrolling effect, and introduced a splash screen for all applications.
In terms of performance, Android 12 provides faster and more efficient system performance, improves application startup time and optimizes I/O to speed up application loading.
Delphi 11 "Alexandria" released
Delphi 11, C++Builder 11 and RAD Studio 11 have been officially released, code-named "Alexandria". The new version introduces many important new features and enhancements, improves the user experience of the IDE, and aims to enhance the productivity of developers. E.g:
Support high resolution screen (4k+ display);
Support Windows 11, Android 30 API and macOS 64-bit ARM M1 processor;
Introduce C++ formatter;
Enhanced cross-language support between Delphi and C++;
Enhanced FMX designer, etc.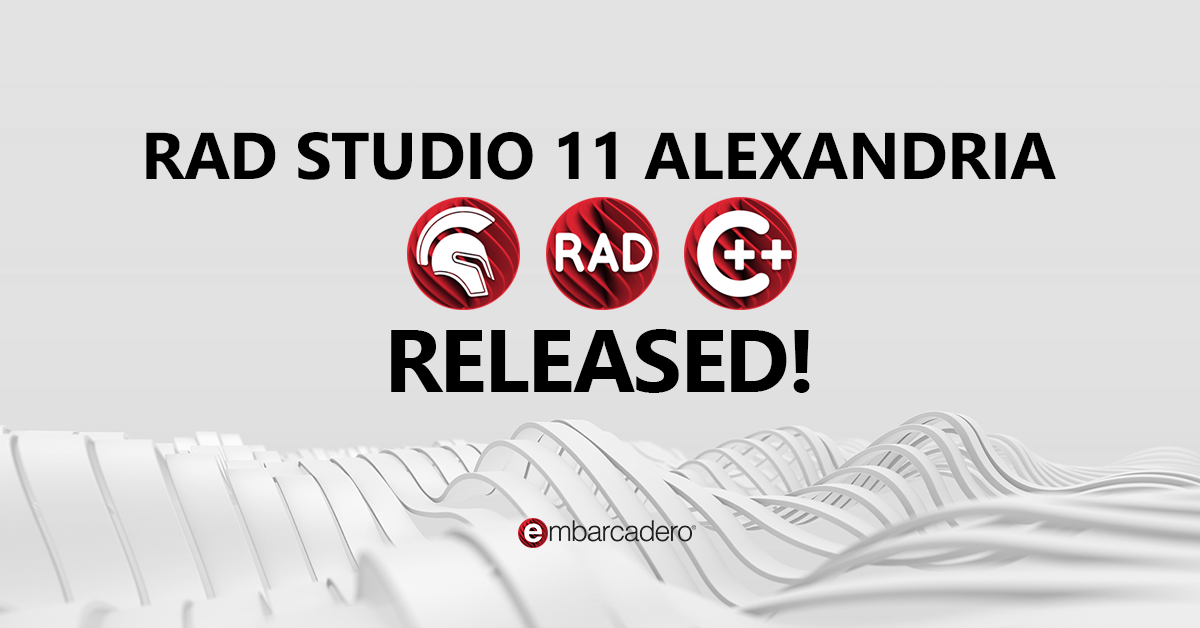 Firefox 93 is released, officially supporting AVIF format
Firefox 93.0 is officially released, this version is the latest stable version of Firefox, including feature updates, as well as security and stability fixes.
new features
AVIF format support is enabled by default

Mozilla's original plan was to enable support for the AVIF format in Firefox 92, but in the previous version, Mozilla temporarily delayed the release of this feature. Now in Firefox 93, support for AVIF has been enabled by default.

Compared with existing image formats, AVIF can significantly save bandwidth for websites.

Uninstall tabs on Windows when memory is critically low

With this update, Firefox provides a new label uninstall function for Windows. If the available system memory of the Windows device is severely low, then Firefox will automatically uninstall the tab.

The uninstallation of tabs by Firefox will be determined based on the last access time, memory usage, and other attributes. Mozilla hopes that this feature will reduce the number of memory-related crashes Firefox users experience.

Block unsafe downloads by default

Firefox now blocks insecure downloads (ie HTTP downloads on HTTPS web pages) by default.

Users with this requirement can set the dom.block\_download\_insecure preference to False to allow insecure downloads again.

Firefox PDF viewer now supports filling in more forms
In order to prevent macOS users from losing their session when running Firefox from the mounted .dmg file, they will now be prompted to complete the installation. This prompt only appears when the user runs Firefox on their computer for the first time
Improved the privacy protection web compatibility of SmartBlock 3.0
Introduced new referrer tracking protection in Strict Tracking Protection and Private Browsing
fix
The VoiceOver screen reader now correctly reports that the selectable items in the accessible tree control are selected or unselected
Orca screen reader now works properly in Firefox
Repair of various security issues
---