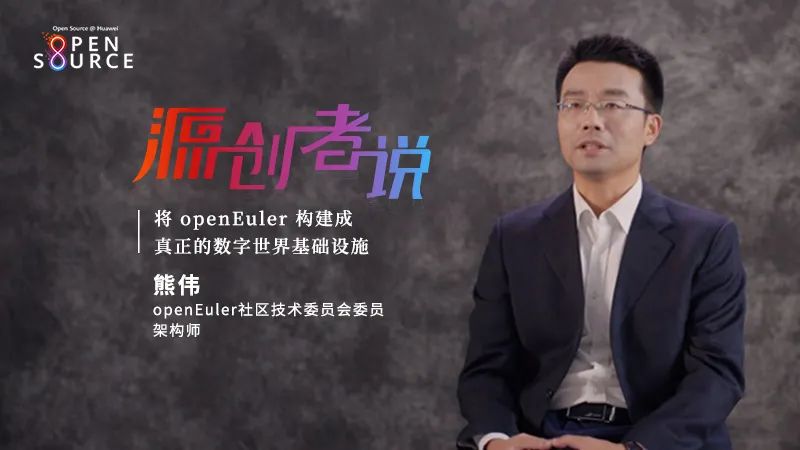 ​Interviewer : Ma Wei, SegmentFault Technical Editor
Respondent : Xiong Wei
Xiong Wei, graduated from Nankai University, doctor of engineering, has participated in operating system development in TurboLinux, WindRiver and other companies. He joined Huawei in 2014 and is currently the chief architect of the server operating system of the Central Software Institute of the 2012 Laboratory, a member of the openEuler Technical Committee, and one of the main founders of the openEuler community.
---
Around 2010, Huawei began to develop the EulerOS operating system. After ten years of polishing, EulerOS has matured and applied on a large scale within Huawei. As the base of IT infrastructure, the operating system is an important infrastructure in the digital world and plays an important role in linking the previous and the next. In order to build this infrastructure together with industry partners, Huawei decided to open source EulerOS in 2019, named openEuler, and jointly build, share, and govern a comprehensive digital infrastructure with industry partners.
https://www.bilibili.com/video/BV1eq4y1w7Tu/?aid=551005672&cid=494417858&page=1
From operating systems to digital infrastructure, openEuler creates a diverse and open ecosystem
Compared with "software" in the traditional sense, the operating system is more similar to a platform system, providing users with a variety of software to meet diverse needs. Because of this, Xiong Wei believes that "the process of building openEuler is very similar to building a large chain shopping mall. The value of the shopping mall is not in the shopping mall itself, but in the rich and colorful services inside, such as catering, entertainment, movies, etc., these colorful services. This makes shopping malls a place that everyone likes to go to. By analogy, the importance of an operating system platform such as openEuler also lies in the variety of hardware and software systems on it. The goal of openEuler is to continuously attract various manufacturers to settle in and continuously launch Various services continue to enrich the application of the operating system, and at the same time, it continuously absorbs various users, and continuously improves itself in the continuous feedback of users, so as to finally establish a complete industrial ecosystem."
Today, digital infrastructure is developing in the direction of the Internet of Everything, and scenarios such as cloud, edge, and IoT have become new battlefields for openEuler. Different from the past, these new scenarios need to face the ecological needs of more openness, multiple hardware platforms and architectures, and more emphasis on device-cloud collaboration. Xiong Wei believes that in the future, openEuler needs to comprehensively upgrade the organizational form of the community and the overall technical architecture to meet the challenges brought about by the continuous expansion of the community, and to expand the operating system architecture from focusing on server, cloud and other scenarios to IoT, embedded , edge computing and other new scenarios.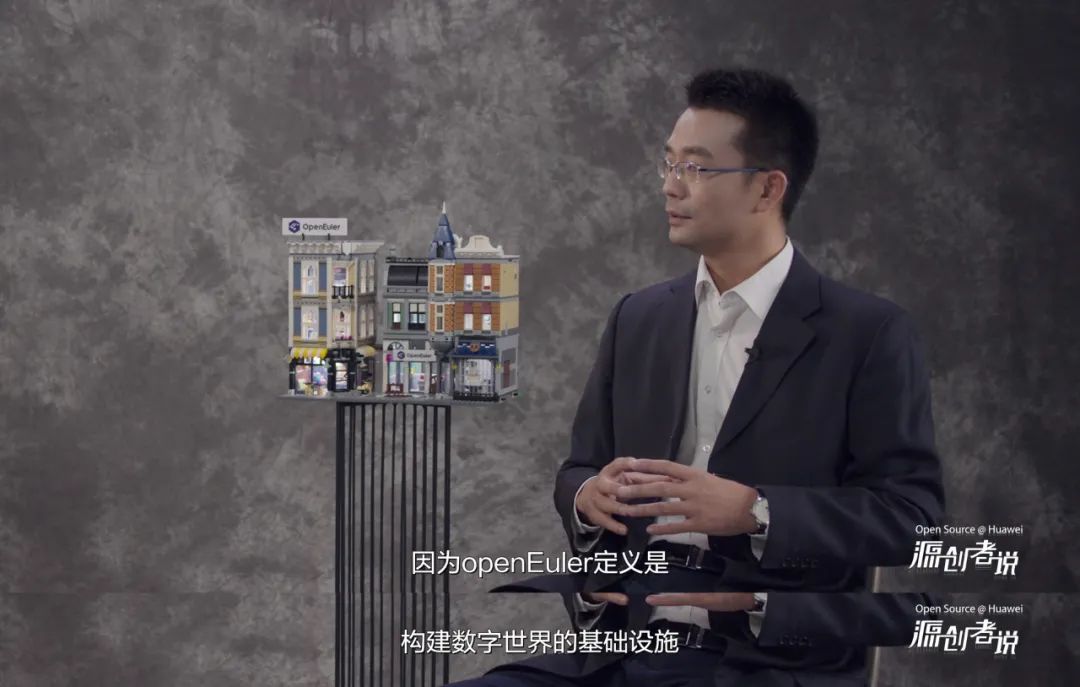 "As a digital infrastructure, openEuler will be more open in form, attracting more manufacturers, users and developers to participate in it, and jointly build openEuler into the base of the digital world." Xiong Wei is full of confidence in the future of openEuler.
Faced with different application scenarios, openEuler not only provides Linux kernels, but also provides new options such as real-time kernels for edge computing, embedded, IoT and other scenarios, providing customers with a variety of options to cover a wider range of application scenarios, which is An important feature that distinguishes openEuler from traditional operating systems.
Through multi-core support, openEuler can not only cover more business scenarios, but also help different scenarios have a unified development view and a unified development interface, making it easier for software to be migrated on different systems. Achieve better end-to-end, edge-side and cloud-side collaboration, greatly improving development efficiency. Based on the openEuler platform, the same application can be seamlessly migrated in many scenarios such as cloud, edge, IoT, Internet of Vehicles, and industrial parks. This capability will greatly reduce the development threshold and create basic conditions for a prosperous application ecosystem.
Xiong Wei believes that in addition to some hard-core technologies in the openEuler community, the core competitiveness of openEuler is also reflected in the "soft" power of the community. In Xiong Wei's view, the core goal of the openEuler community is not just to produce one or two finished software products, but to create an organizational structure that can achieve a virtuous cycle and sustainable development, establish a set of complete process specifications, and continue to provide the industry with Talent output. When the elements of organization, process, and talent are built, and supplemented by an excellent community culture, openEuler will be able to continuously produce high-level software that meets market demand, and even hatch world-class software.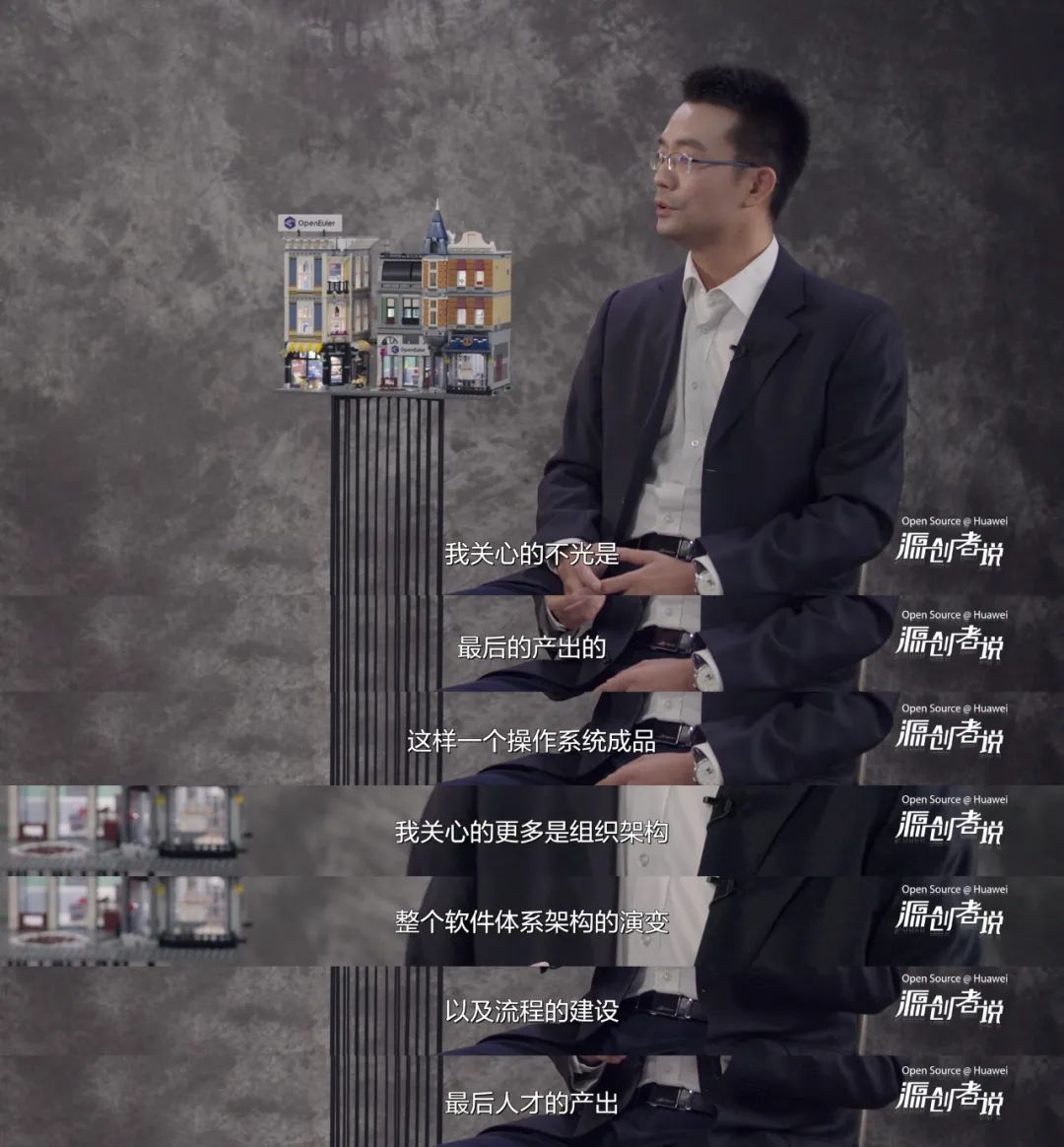 Similar to the fact that a large shopping mall will drive the consumption prosperity and economic growth of a region, after openEuler builds a good operating framework system, it will not only be an operating system community, but will also include software packages, basic libraries, A huge collection of a series of functions such as development framework, tool chain, front-end interactive system, back-end service system, user feedback and communication system, and multi-language support. The community will form a huge public resource pool. On the unified resource pool, combined with construction tools, it can customize the capabilities of different types of operating systems according to the different needs of users, and promote the exploration of high-level core software technologies. The software industry is a pivotal force.
Winning the recognition and support of partners with open source, the core driving force of openEuler's rapid growth
From the perspective of the infrastructure of the digital world, software and hardware need a more solid foundation; from the perspective of the iterative upgrade of the global computing industry, a new operating system that is more in line with future computing needs is needed. The operating system will shoulder the responsibility of this special historical opportunity node. the major mission of transformation. In fact, for openEuler, strengthening horizontal collaboration through open source code, and strengthening upstream and downstream collaboration in the industry chain through basic software and hardware adaptation, application adaptation, and overall machine integration adaptation are gradually forming a systematic technology and industrial ecology. key.
In this process, the participation of community participants is inseparable. According to public information, since the open source code was opened on December 31, 2019, openEuler has become the most dynamic open source community in China, with more than 400,000 downloads and more than 1 million commercial applications in 2021. In just two years, the openEuler community has attracted nearly 10,000 contributors, 300+ partners, and established nearly 100 SIG groups.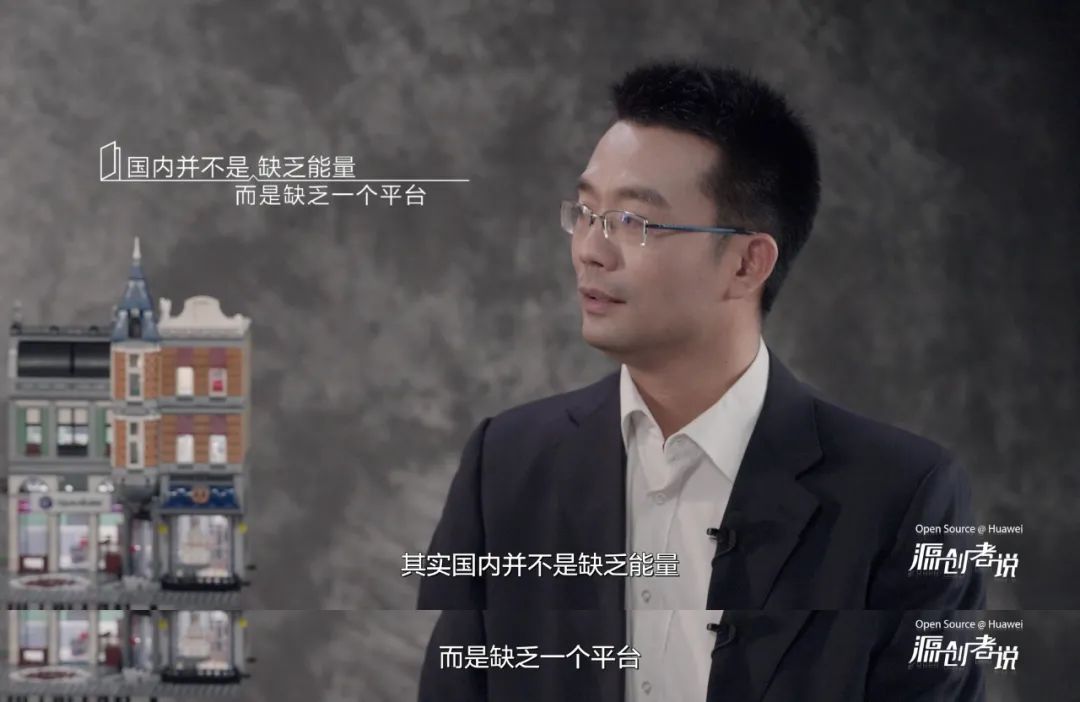 Xiong Wei is deeply aware that China's IT industry does not lack the energy and motivation of open source collaboration, but it lacked a platform with sufficient appeal before. When a platform like openEuler is established, the energy contained in the industry can be quickly gathered and released, creating amazing results.
In openEuler 20.09, the second version released by the community, more than 30% of the work is contributed by companies other than Huawei. Version 20.09 is China's first large-scale operating system platform jointly developed by different companies, which is a milestone event in the entire history of Chinese operating system development. We would like to thank our industry partners for their great enthusiasm and contribution to openEuler. Without such joint efforts, there would be no openEuler's outstanding achievements and unlimited potential today.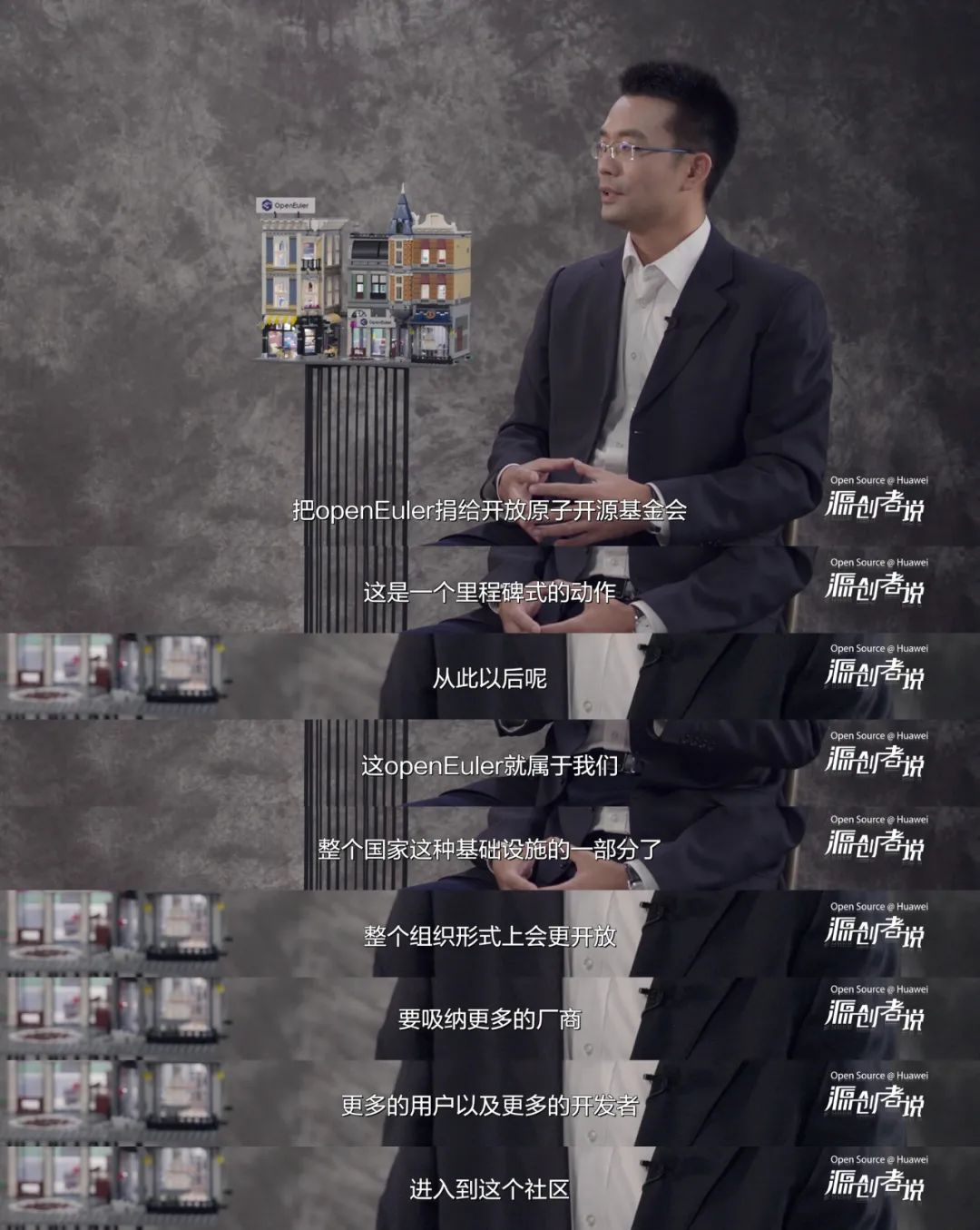 As an open community, openEuler brings together various forces such as enterprises, research institutes, universities, brother communities, individual enthusiasts, and even middle school students. Some companies compete in business, but in the community, these companies that compete in business can sit together, jointly formulate technical standards, work together, and jointly complete product research and development, which has established the best industrial cooperation for Chinese companies. template. Numerous research institutes and universities can conduct scientific research and teaching based on openEuler, which not only builds a bridge for cooperation between industry, university and research, but also opens up the channel between scientific research and industry, and also reserves more talents for the future of the industry. Everything these partners do in openEuler is contributing to China's basic industries.
In the latest openEuler 20.09 version, Huawei's overall contribution has dropped to less than 50 percent. openEuler has truly become a public basic platform jointly built by industry partners. In the future, this platform will gather more and more partners to realize the community practice of co-construction, sharing and co-governance.
From mall to chain giant: the future of openEuler
"If openEuler is compared to a large chain store, then my biggest expectation is that openEuler can achieve internationalization and grow into a global chain store". When it comes to the future development of openEuler, Xiong Wei said.
Some viewpoints believe that the future operating system will evolve into an operating system, that is, an operating system can cover all scenarios. But Xiong Wei's prediction is just the opposite: "With the emergence of more chip types such as GPUs, TPUs, and DPUs, the emergence of multiple architectures, and the differentiated needs of more computing scenarios such as cloud computing, edge computing, and IoT, the operating system industry Possibly more diversity, a new era of richer and more diverse."
In terms of technological evolution, in recent years, diversified computing power has become a hot spot in the chip industry. openEuler hopes to further increase the technological exploration of diversified computing power, and provide excellent support for diversified computing power from the bottom of the system and tool chain. This support can in turn stimulate and support the development of the chip industry.
With the further development of the community, the openEuler community needs to always adhere to the concept of "co-construction, sharing, and co-governance", and work together to create an operating system for diverse computing scenarios. Therefore, the openEuler community needs to continuously optimize the organizational structure, maintain a good and healthy ecosystem, and build a good open source process in the process, and build a talent echelon that understands open source, infrastructure, chips, and system architecture.
From the very beginning of its establishment, openEuler has set its sights on the world. openEuler hopes to win recognition not only in China, but also in the world. As early as 2019, openEuler began to try to expand in some regions of the world, which also made its own contribution to the internationalization of the Chinese open source community. According to Xiong Wei, openEuler will increase its overseas expansion efforts in 22 years, and openEuler also hopes to form international cooperation with global partners and various open source communities around the world, open and win-win, and strive to gradually build itself on a global scale. Influence. It is hoped that in the near future, openEuler will become an operating system platform widely used by enterprises around the world, and become a favorite open source community for developers and users around the world. Welcome everyone to join the openEuler community, to participate, to build, to share, and to send out your light and heat.
---
About Huawei Open Source
As a trusted open source citizen, Huawei works with partners to promote inclusiveness, fairness, openness, and more solidarity through continuous contributions, build a world-class basic software open source community, and accelerate the digitalization of the industry.
· Active participant and supporter of major open source organizations. At present, Huawei is a top/start-up member of dozens of international open source foundations.
· Contribute to open source basic software on a large scale, consolidate the ecological foundation of digital infrastructure, and work with partners and developers to build an open source ecosystem. In the past two years, Huawei has open sourced multiple platform-level basic software open source projects such as KubeEdge, Mindspore, openEuler, openGauss, and OpenHarmony for cloud native, automation, and intelligence, becoming an open source community accepted by developers around the world. Industry commercial landing.
· Actively build a sustainable, viable and credible open source community. Huawei is committed to improving the community ecological governance structure to ensure the continuous evolution of the community.
Pay attention to Huawei's open source public account to learn more!
Click【 here 】, go to Huawei open source official website to learn more about
---