40s Newsletter
A15/M1 Processor Massive Confidential Documents Leaked Can Be Reverse-Engineered
Edge overtakes Safari as second most popular desktop browser
iPhone 14 parameter exposure mini version was cut off
Apple, Google, Microsoft will jointly promote passwordless login technology
Gates says Musk may make Twitter worse, but never underestimate him
The IP agency industry is booming after the IP territorial is displayed, and the minimum 6 yuan can be changed
GitHub requires two-factor authentication for all accounts
Baidu employees quit ByteDance and were ordered to pay 1.07 million yuan in first instance
Firefox browser 100 released
Microsoft begins preparations for 23H2: unstable Windows 11 preview is coming
AlmaLinux 8.6 Beta Released
SQLite 3.38.4 released
Unity 7.6 Beta Released
Industry information
A15/M1 Processor Massive Confidential Documents Leaked Can Be Reverse-Engineered
A few days ago, Apple sued startup Rivos, accusing it of stealing confidential information related to its latest A15 and M1 processor chips. It is understood that Rivos is a company established in June 2021, and its business content is the development of system-on-chip (SoC). However, the company is very mysterious. Some financial media have learned that the company's principle of poaching Apple's R&D employees is to "do whatever it takes". At present, at least 40 people have been robbed, and they have also been asked to take away several gigabytes from Apple. Confidential document "Certificate of Acceptance". According to Apple's allegations, at least two former employees stole thousands of documents related to A15 and M1 designs and transactions. These documents, information, etc. can speed up the development of Rivos' own chips and put Apple in a disadvantageous competitive position in the market.
Edge overtakes Safari as second most popular desktop browser
According to StatCounter, Microsoft Edge overtook Apple's Safari as the second most popular desktop browser. In the desktop browser market, Microsoft Edge's usage rate is 10.07%, higher than Safari's 9.61%, Google Chrome first with 66.64%, and Mozilla Firefox fourth with 7.86%. Microsoft Edge is the default browser used by Windows 11. The mobile browser market is another story. Edge did not enter the top six, with Chrome and Safari firmly occupying the top two positions, with a huge lead over other competitors: Chrome accounted for 62.87%, Safari accounted for 25.35%, and the third place Samsung Internet is only 4.9%.
iPhone 14 parameter exposure mini version was cut off
Recently, a foreign blogger has produced the main configuration diagram of the iPhone 14 series according to rumors. The picture shows that the iPhone 14 standard version is still two models, the small-size mini version was cut off, and a large-size iPhone 14 Max model was added. The iPhone 14 series still uses the Liu Haiping solution, the display does not support high refresh rate, and still has a low refresh rate of 60Hz. The chip still uses the A15 bionic chip, while the iPhone 14 Pro series uses the A16 bionic chip and a "pill"-shaped screen.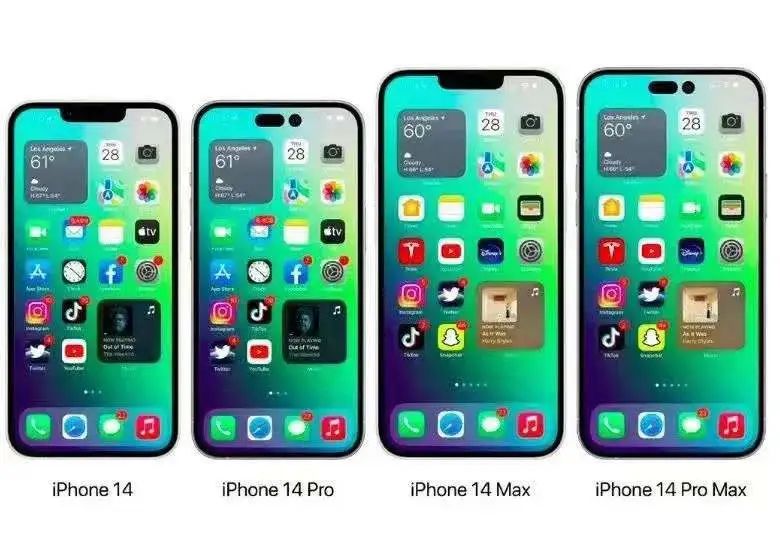 Apple, Google, Microsoft will jointly promote passwordless login technology
The three tech giants, Apple, Google and Microsoft, have reportedly announced in a joint plan that they will be working on a passwordless login system on all mobile, desktop and browser platforms they control over the next year. This means that in the near future, all major device platforms will use passwordless authentication. So far, Apple, Google and Microsoft have all said that the new sign-in feature is expected to be rolled out to their platforms next year, but no specific roadmap has been announced.
Gates says Musk may make Twitter worse, but never underestimate him
Microsoft co-founder Bill Gates said on Wednesday he wasn't sure what the future of Twitter would look like under Elon Musk, but we should keep an open mind and never underestimate his possibilities. "It's true that he could make Twitter worse," Gates said in an interview Wednesday, "but his track record is not that. We should keep an open mind and never underestimate Elon. All it takes is money and a great engineer, and he's probably as good as anyone."
The IP agency industry is booming after the IP territorial is displayed, and the minimum 6 yuan can be changed
After multiple platforms launched the IP territorial function, many Internet big V began to change their names and profiles. Meanwhile, the business of paid IP proxies is booming. It is understood that the price of domestic servers ranges from 6-8 yuan, but this is only a short-term IP, and there are relatively few places to choose from. At present, the search results of keywords such as "IP proxy" on a certain platform have been blocked.
GitHub requires two-factor authentication for all accounts
GitHub has announced that by 2023, all developers who use the GitHub platform to store code and contribute will need to enable one or more forms of two-factor authentication (2FA), otherwise the platform will not work properly.
Baidu employees quit ByteDance and were ordered to pay 1.07 million yuan in the first instance
Recently, China Judgment Documents Network disclosed a judgment on labor disputes and personnel disputes filed by Baidu Company against its former employees. The Haidian District People's Court ruled that a resigned employee surnamed Pan of Baidu Company should return 214,800 yuan of non-compete compensation to Baidu Company. RMB 859,200 in liquidated damages for non-compete restrictions, and continue to perform confidentiality obligations.
The civil judgment shows that Baidu's previous appeal was that in addition to returning the non-compete compensation of 214,800 yuan, the former employee should also pay 1.2888 million yuan in breach of non-compete obligations and 50,000 yuan in compensation for breach of confidentiality obligations. The total of the three is 1.5536 million yuan.
Latest technical developments
Firefox browser 100 released
Major updates
Picture-in-picture function supports subtitles
Mobile version with new wallpapers
Cleaner history and tab organization for mobile versions
Android version supports HTTPS-only mode
Easier to switch preferred language
More countries and regions support credit card autofill
Microsoft begins preparations for 23H2: unstable Windows 11 preview is coming
Recently, Microsoft sent another email to the Windows Insider Program, warning Windows 11 preview users that unstable and buggy preview builds will soon be available in the Dev Channel. The reason was not mentioned in the email, but it should be because Microsoft is already working on the next major version of Windows 11, 23H2, and will begin branch testing as a result.
At present, the latest version of the Dev and Beta channels are Windows 11 Insider Preview Build 22616. Microsoft said that this window period will close soon, so if users want to use a more stable system, they can switch to the Beta version without any damage.
AlmaLinux 8.6 Beta Released
AlmaLinux 8.6 Beta has been released, codenamed "Sky Tiger".
Major updates
Improved web console
Introduces new system roles to simplify system management
Security updates include receiving updates from upstream versions of the SCAP Security Guide, OpenSCAP and other packages, and other improvements

upgrade package

PHP 8.0
Perl 5.32
log4j 2
container-tools 4.0
SQLite 3.38.4 released
Major updates
Fixed the bytecode problem of Bloom filter drop-down optimization added in version 3.38.0. When the drop-down optimization encounters a NULL key, the bytecode error causes the bytecode engine to enter an infinite loop
Fix CLI using wrong allocator for free()
Preserve the COLLATE operator on the index of the expression when resolving the use of the expression as a reference to the index
Unity 7.6 Beta Released
Major updates
The Dashboard (App Launcher) and HUD have been redesigned to look more modern
Fixed broken app info and ratings in dashboard preview
Fixed "Empty Trash" button in Dock
Migrated the full Unity7 shell source to GitLab and made it compile on 22.04
The design is flatter, but retains the system-wide blur effect
The dock's menus and tooltips have been given a more modern look
Low graphics mode now works better and the dashboard is faster than before
The memory usage of Unity7 is now slightly lower, while the memory usage of Ubuntu Unity 22.04 has been greatly reduced to about 700-800 MB
Fixed Unity7 launcher for standalone tests
---