Recently, Xilin Chain (V4.0), a secure and controllable blockchain basic service platform developed by Southwest Forestry University based on FISCO BCOS, has passed the blockchain system of the China Electronics Standardization Institute of the Ministry of Industry and Information Technology (hereinafter referred to as the Electronic Standards Institute). function test. Source of information: Official account of China Blockchain Technology and Industry Development Forum👇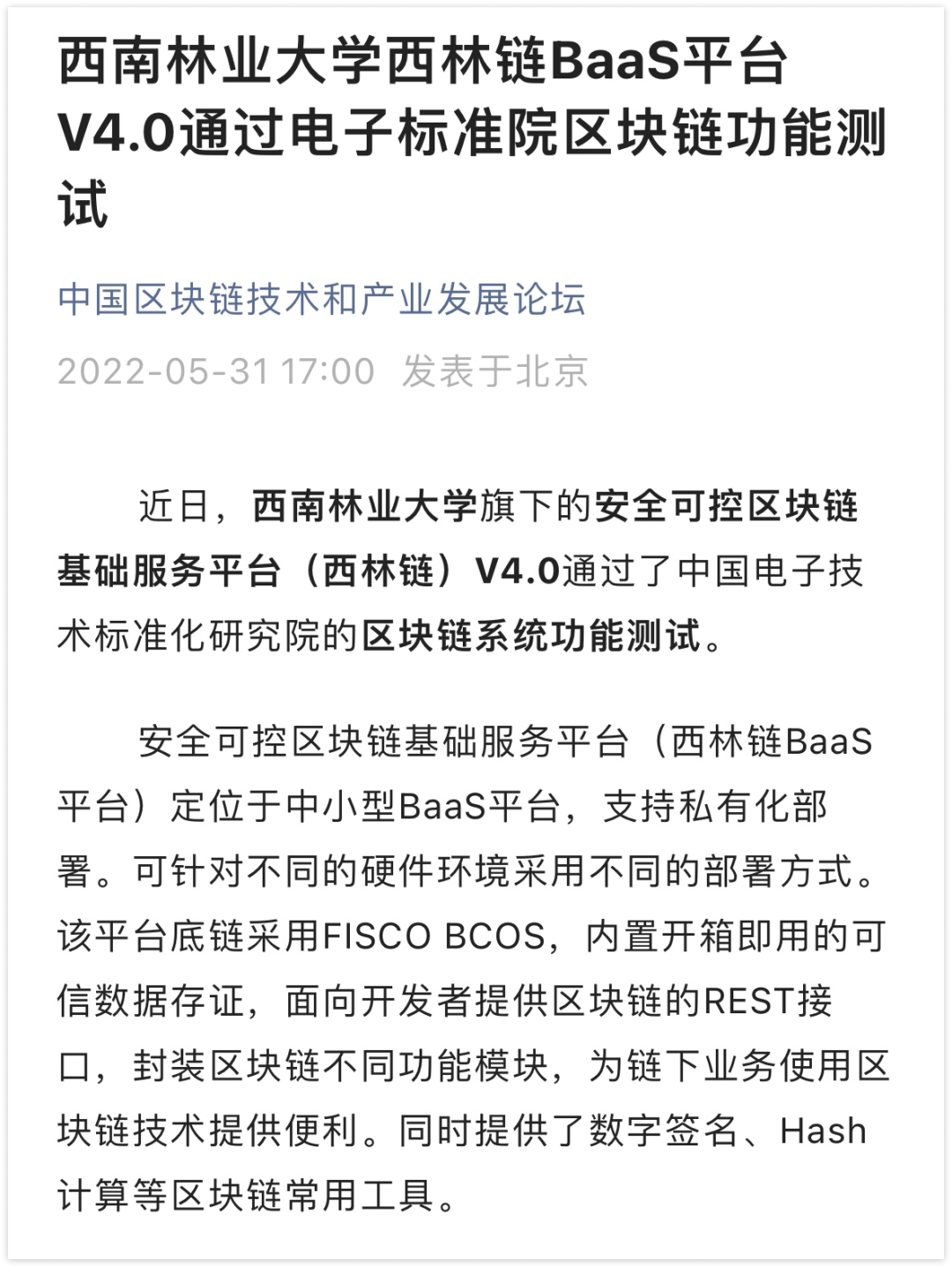 This test was carried out by Saixi Laboratory of Electronic Standards Institute, which is a third-party authoritative testing institution approved by CNCA (National Certification and Accreditation Administration) and accredited by CNAS (China National Accreditation Service for Conformity Assessment). Relying on the major scientific and technological special plan projects of Yunnan Province, Xilin Chain is jointly developed by Southwest Forestry University and Yunnan Provincial Supply Chain Management Blockchain Engineering Research Center.
The platform is positioned as a small and medium-sized BaaS platform, supports privatized deployment, and can adopt different deployment methods for different hardware environments. The platform bottom chain adopts FISCO BCOS, built-in out-of-the-box trusted data storage certificate, provides the REST interface of the blockchain for developers, encapsulates the details of the blockchain, and provides platform support for the use of blockchain for off-chain business.
In addition to the general basic service platform, Southwest Forestry University also actively explores the application of blockchain in cross-border trade settlement scenarios, and uses FISCO BCOS to develop a "blockchain-based cross-border trade and payment settlement service platform" for the underlying chain.
At present, the project has been tested in the Dehong area of Yunnan Pilot Free Trade Zone, and won the first prize of the 5th China Blockchain Development Competition in the Western Division Regional Competition hosted by the Electronic Standards Institute, and the 3rd Blockchain Service Network ( BSN) developer contest second prize.
FISCO BCOS is a fully open source, domestically safe and controllable financial-grade consortium chain bottom platform. It has industry-leading advantages in performance, ease of use, security, etc. Functional and performance testing.
The new generation of FISCO BCOS v3.0 has been comprehensively upgraded in terms of architecture, algorithms, security and controllability, privacy computing collaboration, etc., to better meet the needs of the digital economy era for blockchain systems that can carry larger scale, more scenarios, Wider participation in industrial application needs. The open source ecology is based on more than 30 open source components developed and contributed by FISCO BCOS, forming a complete set of out-of-the-box, full-stack technology system covering bottom layer → middleware → application components, effectively promoting the implementation of blockchain industry applications.
At present, FISCO BCOS has successfully supported the implementation of hundreds of blockchain applications in various industries such as government affairs, finance, cross-border, medical care, justice, agriculture, etc., and the community has collected more than 200 benchmark applications. The open source community has gathered more than 3,000 institutions and enterprises, and more than 70,000 individual members to jointly build, co-govern and share, and jointly promote the formation of the largest and most active domestic open source alliance chain ecosystem.
The code of FISCO BCOS is completely open source and free
For more dry goods, please pay attention to the FISCO BCOS open source community public account, visit the FISCO BCOS code repository to download all the source code of the project: https://github.com/FISCO-BCOS/FISCO-BCOS , please click the star collection in the upper right corner of the page , to get the latest version.
---