On June 4, 2021, the "2021 Cloud Edge Collaboration Conference" hosted by China Academy of Information and Communications Technology (hereinafter referred to as "China Academy of Information and Communications Technology") was held in Beijing. With the theme of "Opening a New Era of Distributed Cloud", this conference aims to build a bridge for the integration and development of cloud services and edge computing in the digital economy and the 5G era, and release a number of phased results of cloud-side collaborative development for the industry. Among them, Alibaba Cloud's edge container service ACK@Edge obtained the "2021 Cloud Edge Collaboration Capability" standard certification, and passed all 33 assessments required for edge container technology capabilities; the Shentong Express IoT cloud edge architecture based on ACK@Edge was selected. "2021 Top Ten Practice Cases of Distributed Cloud and Cloud Edge Collaboration".
​

Alibaba Cloud and China Academy of Information and Communications Technology jointly build a cloud-side collaboration system standard
​
The national "14th Five-Year Plan" outline clearly points out the need to "coordinate the development of cloud services and edge computing services." Cloud-side collaboration technology provides more global and flexible computing resources for various industries, provides targeted computing power for the edge, and accelerates the coordinated development of various industries and cloud computing.
​
However, major companies have different perceptions of cloud-side collaborative architecture, and related technologies and product levels in the market are uneven. The construction of a standard system is particularly important. In this context, the China Academy of Information and Communications Technology has joined hands with more than 30 companies and institutions such as Alibaba Cloud to jointly promote a cloud-side collaboration standard system. After extensive solicitation and in-depth discussions, at this conference, the cloud edge collaboration standard system was announced, and the "Cloud Native Edge Technology White Paper (2021)" was officially released.
Alibaba Cloud Edge Container Service ACK@Edge passed 33 capability evaluations
​
The establishment of the cloud-side collaboration standard system, on the one hand, can help companies accurately assess their own cloud-side collaboration capabilities and formulate a scientific and reasonable evolution path; on the other hand, based on the standard system, cloud-side collaboration product providers can respond to market needs and technology Accurately grasp the development direction and promote the evolution of product form.
In the 2021 cloud edge collaboration capability evaluation guided by this standard system, Alibaba Cloud Edge Container Service ACK@Edge passed all 33 inspection dimensions including basic capabilities, collaboration capabilities, security capabilities, service assurance, and quality assurance. In the evaluation, it obtained the "2021 Cloud Edge Collaboration Ability" standard certification.
​
ACK@Edge is a cloud-side integrated collaborative hosting solution launched by Alibaba Cloud Container Service after in-depth exploration of edge computing + cloud native implementation requirements. Taking CNCF Sandbox project OpenYurt as the core framework, adhering to the service concept of "cloud standard management and control, moderate edge autonomy", it uses non-intrusive enhancements to provide edge autonomy, edge units, edge traffic management, native operation and maintenance API support and other capabilities. In the architecture design, the three-tier structure of the "cloud side end" is clearly layered, and the capabilities are coordinated:
​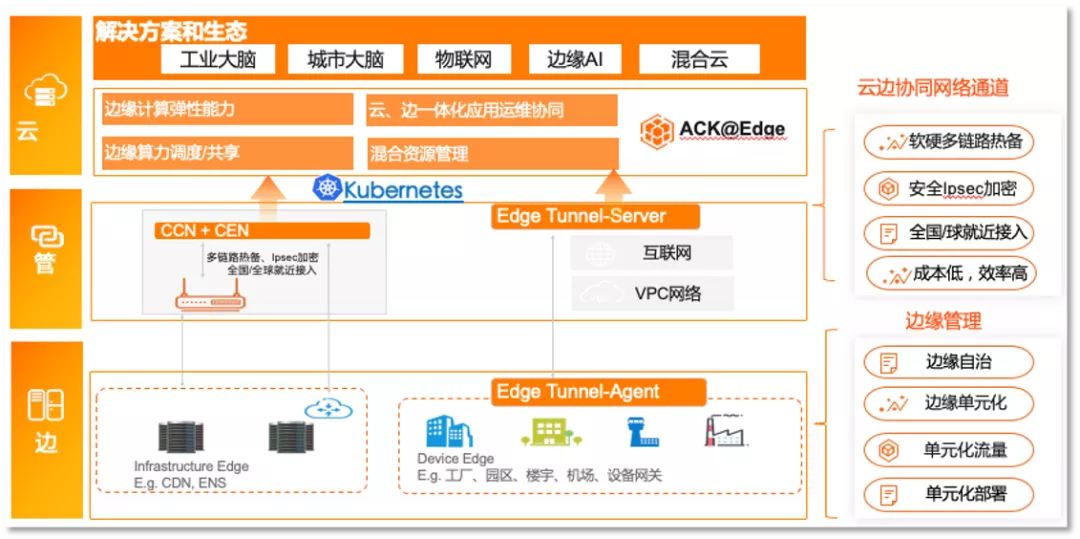 Figure: Alibaba Cloud Edge Container Service (ACK@Edge) technical architecture
​
Functionally, it natively supports the full lifecycle management of container applications and resources in edge computing scenarios, including:
​
By managing the edge nodes, the cloud applications are extended to the edge, and the data of the edge and the cloud are linked, so that the edge nodes have the same capabilities as the cloud.
Provide unified Ops capabilities for edge devices and edge applications in the cloud to ensure that edge devices and edge intelligent applications have less operation and maintenance and high availability.

Figure: Alibaba Cloud Edge Container Service (ACK@Edge) function overview
​
ACK@Edge has been widely used in CDN, real-time audio and video cloud services, online education, transportation, smart city, smart industry, IoT, logistics, water conservancy, energy, agriculture and other scenarios, covering hundreds of industry users and managing millions Container instances help enterprises simplify cluster operation and maintenance work, and focus on the development and management of edge business applications.
​
With ACK@Edge as the base, Shentong IoT cloud edge architecture "selected ten best practice cases"
​
As a typical landing scenario of IoT business, the logistics industry revolves around the four dimensions of people, goods, machines, and vehicles, involving a large number of system interactions such as automation and man-machine assistance, and is gradually forming a huge digital system. The traditional cloud-to-end architecture simply cannot meet the needs of actual side-end scenarios, and there is an urgent need for a high-availability, high-stability, and scalable cloud-end-end integrated architecture for massive device access.
​
The edge PaaS platform of Shentong Express's overall cloud-side-end architecture is based on ACK@Edge to solve the problem of edge resource management and control of physical resource dispersion, cloud-side management, edge autonomy, and cloud-side collaboration. Shentong Express IoT cloud-side architecture is the first implementation plan for the express delivery industry to evolve the cloud native architecture at the edge. The core scanning and verification business of express delivery is implemented through cloud-side collaboration capabilities to complete the entire scanning and verification core process at the edge to support The express delivery business intercepted parts, pre-sales and other businesses, and calmly responded to the massive data promotion such as Double Eleven, which brought the express delivery scanning user experience to a new level and entered the digital 2.0 era.
Figure: Schematic diagram of Shentong IoT cloud edge integrated architecture
​
Shentong Express's edge containerization based on ACK@Edge is also the first example of edge-end evolution cloud native technology landing practice in the express industry so far, and it is at the leading level in the edge scene of the express industry, creating a cloud-side collaboration technology concept for the industry in the IoT industry The benchmark for landing applications.
​
The era of cloud-side collaboration is coming, Alibaba Cloud will continue to expand the boundaries of cloud computing with the industry
​
With the rapid increase in the number of intelligent terminal devices on the Internet and the advent of the era of 5G and the Internet of Things, cloud computing capabilities will be lowered to the edge and device sides, and unified delivery, operation and maintenance, and control through the center will become cloud computing Important development trend. Alibaba Cloud will continue to promote the development of cloud-side integration technology and the implementation of cloud-side collaboration systems through open technology ecology and global partnership programs, share the technological dividends of the cloud era with more companies, and accelerate business intelligence upgrades.
​
Click https://www.aliyun.com/product/cs/ack_edge Learn more about ACK@Edge
---